Renaissance: Profile by Gaslight
Sherlock Holmes
When he made his "Reader's List of Detective Story Cornerstones," Howard Haycraft included all of the Sherlock Holmes novels and collections of short stories. To justify this (as though he needed to!), he said, "The listing of all the Sherlock Holmes books -- the complete works -- is sheer idolatry. Surely the first Holmes story,A Study in Scarlet, is an undeniable cornerstone; also The Adventures and The Memoirs; and the best of the novels should also be present in any definitive detective library. Most critics would probably select The Hound [that's The Hound of the Baskervilles] as the best novel; John Dickson Carr's choice is The Valley of Fear."
Surely these are the best of the best. Sir Arthur Conan Doyle took the Poe formula and developed it into the most readable (and eminently re-readable) stories yet produced. (You can read about Poe's influence on Doyle: Part 1 and Poe's influence on Doyle: Part 2.)
Like Poe before him, Emile Gaboriau was also to have a great influence upon Doyle. (Read Gaboriau's Influence on Doyle: Part 1 and Gaboriau's influence on Doyle: Part 2.)
The Holmes stories spawned a number of parodies, pastiches, burlesques, and "higher criticism." Father Ronald Knox wrote an essay called "The Cult of Sherlock," after which devotees (of which cult I am, ahem, a self-confessed member) realized the canonization of the Holmes stories. The Sherlock Holmes apocrypha also developed. So much has been written about Holmes that aficionados have adopted the slogan, "Never has so much been written by so many for so few."
Doyle's brother-in-law, E.W. Hornung, spoke for us all when he wrote, "Though he might be more humble, there's no police like Holmes."
Arthur Conan Doyle (May 22, 1859 to July 7, 1930) produced the following Sherlock Holmes books:

Click Image to
Order from Amazon
(As an Amazon Associate
I earn from
qualifying purchases.)


Click the image below to
Read the Reviews:


---

Click Image to
Order from Amazon
(As an Amazon Associate
I earn from
qualifying purchases.)


Click the image below to
Read the Reviews:

This web page hasn't touched on the history and development of the Holmes stories in detail yet. Accompanying articles discuss it more thoroughly. But Sir Arthur Conan Doyle created a market for detective short stories, particularly when he killed off Sherlock Holmes at the Reichenbach Falls (in the famous death-struggle between Holmes and Professor Moriarty). No more Sherlock Holmes stories caused a proliferation of other writers to appear to fill the void! Some of these "Rivals of Sherlock Holmes" are Arthur Morrison (and his detective Martin Hewitt), Baroness Orczy (The Old Man in the Corner), and many others discussed below.
Buy The Complete Sherlock Holmes from Amazon! (Click below.)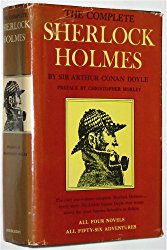 William Gillette
As I do the research for this web site, I find myself catching up on volumes that are in my collection but which I've never quite gotten around to reading until now. William Gillette's novel The Astounding Crime on Torrington Road (1927) is one of these and, were it not for the pure delight of my finally being introduced to Gillette's wit and literary style, I regret having put it off for so long.
I've been somewhat familiar with Mr. Gillette's work as a playwright -- at least in regard to his work about Sherlock Holmes (e.g.,Sherlock Holmes: A Play and the one-act parody The Painful Predicament of Sherlock Holmes) but I was quite unaware of his considerable talent as a novelist. He is able to employ his considerable penchant for drama -- and, yes, melodrama -- as an author. Here, let me quote from the book just to give you a taste of Mr. Gillette's style:
"Mr. Cripps had, about middle life, made a pretty good 'deal' -- for those days -- when he suddenly got on to the way things were going in the suburbs and made a few choice investments. As a result, he became what was then called a millionaire. Of course he'd have been a mere piker now, but as he couldn't read the future, he was well satisfied. At last he could do something. And the first thing was to get some sort of a family about him.

"You see, this Cripps was naturally a lonely man -- actually suffered unless he had people in the house with him; and he hadn't had anybody since the death of his parents some years before.

"What I've said shows you that he had no family of his own -- wife and all that. He wasn't at all a woman hater, but he was a merciless woman critic. Odd thing, too, for he liked them first off, but every time he got within striking distance of matrimony he saw what a tiresome thing it was likely to be, and thereupon fled for his life.

"All the same, his ideal was to live in the midst of a family -- to have about him those who would be company for him and yet not have 'claims'; and things like that, that would make life a wretched bore.

"Now that he'd made his haul, his first thought was to advertise for a family to come and live with him. But really nice people wouldn't answer such an ad, and that was the only kind he wanted. Along here the thought of his own relatives occurred to him. That wasn't a bad idea. He'd get some of them to come.

"His only near relative was a widowed sister, Cynthia Findlay, living with her two children in St. Louis. Mr. Cripps had been supporting them for a number of years, both before and after her husband -- a poor, disreputable fish -- died of drink. She inherited nothing of value from Mr. Findlay except his absence, which was priceless but couldn't be turned into money. She wouldn't have parted with it, anyway.

"He'd always liked Cynthia, and she'd had a tough life of it. He'd have her as a starter for his adopted-family enterprise. Yes, and the children would come in nicely, too. He'd always heard that children kept things lively. Well, that was the way he wanted them."

--(Excerpt from The Astounding Crime on Torrington Road by William Gillette.)
Lest you wonder from this brief excerpt whether this is indeed a murder mystery, let me quote the advertising blurb from the back of my copy: "The murder of Michael Haworth, just after he has sold the rights in an invention to a shady company is a mystery that will puzzle the most seasoned reader of detective thrillers."
As I read The Astounding Crime on Torrington Road, I find myself experiencing the same feelings I enjoy when I watch some early, melodramatic, silent movie serials -- such as The Mystery of the Double Cross or The Wolves of Kultur. And now that I've finished reading it, I can disclose that someone scrawled in pencil "Fairly good" on the end papers in front of my copy. My own opinion is somewhat higher than that. Okay, it's not Dickens or Shakespeare, but it really is quite good
Every Sherlockian is aware of the impact William Gillette (July 24, 1853 to April 29, 1937) made in helping to make the name of Sherlock Holmes a household world. Gillette was a renowned actor who, among other things, introduced a naturalistic method of acting on the stage to audiences of his time, created a way of delivering his lines that made it seem like he was saying them for the first time, and mentored a young Helen Hayes. On stage, Gillette starred as Sherlock Holmes. His intention was to do a short run and then move on to other projects. But popular demand kept him repeating the role for more than forty years.
Vincent Starrett says, "An absurd, preposterous, and thoroughly delightful melodrama, Gillette's Sherlock Holmes is possibly the best realization of a novelist's conception ever produced on the stage....The play opened at the Garrick Theatre, in New York, on November 6, 1899, and ran for 230 performances. Subsequently it played a year on the road, and finally (in 1901), it went to England for a triumphant session at Sir Henry Irving's Lyceum. Since that far time there have been revivals in number, not all of them conducted by Gillette, and the play has been seen in stock. In the detective's role only Gillette is thinkable, if one ardent oldtimer may be permitted to be dogmatic" (The Private Life of Sherlock Holmes).
Arthur Conan Doyle, the creator of Sherlock Holmes, made the following comment to Gillette: "May I add a word to those which are addressed to you on the occasion of your return to the stage?...That this return should be in Sherlock Holmes is, of course, a source of personal gratification, my only complaint being that you make the poor hero of the anaemic printed page a very limp object as compared with the glamour of your own personality which you infuse into his stage presentment" (The Private Life of Sherlock Holmes).
Starrett points out, "The gratitude of America was expressed by [novelist] Booth Tarkington in a memorable sentence: 'Your return to the stage is a noble and delightful event, and, speaking for myself, I would rather see you play Sherlock Holmes than be a child again on Christmas morning" (The Private Life of Sherlock Holmes).
Gillette became the first great standard for Sherlock Holmes, long before Basil Rathbone, Jeremy Brett, and others (most of whom I love in the role), and those who came immediately after him emulated his inflection. I know this because a scrap of Gillette delivering two scenes of his play has been recorded and preserved, and has found its way into the collections of Holmes enthusiasts (my own collection included). Orson Welles did a classic rendition of Gillette's play for radio audiences with his Mercury Theatre of the Air episode, titled The Immortal Sherlock Holmes. Clive Brook, in the film The Return of Sherlock Holmes, also emulated Gillette's voice, as did Richard Gordon on radio.
His home in Connecticut, known as "Gillette Castle," is now a state park.
Buy William Gillette: America's Sherlock Holmes
confidently from Amazon.com by clicking below.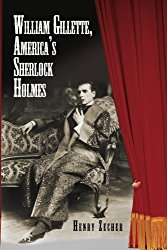 Click the image below to
Read the Reviews:


Vincent Starrett
Vincent Starrett's (October 26, 1886 to January 4, 1974) The Private Life of Sherlock Holmes has already been quoted above. The book is one of the classics of "higher criticism" regarding the Sherlock Holmes canon and is immensely readable.
Dr. Julian Wolff, of The Baker Street Irregulars -- that stalwart group of Sherlockian luminaries which forms, along with the Sherlock Holmes Society of London, a central hub of worldwide Sherlockian activity -- called it "The greatest book about Sherlock Holmes that has ever been written."
Click Image to
Order from Amazon
(As an Amazon Associate
I earn from
qualifying purchases.)


Click the image below to
Read the Reviews:


---

Other quotes from the world of Sherlockian aficianados about the book include the following:

"A masterpiece! No one can surpass it for richness of phrase, depth of observation, and superb sardonic delight." -- Christopher Morley

"Vincent Starrett has done more than any other historian to capture the deep philosophical and poetic truth that lies behind the saga of Sherlock." -- Will Oursler

"The best piece of work written on the most memorable fictional detective." -- Ben Hecht

"A wry, thoroughly authoritarian and extremely fascinating chronicle." -- Carl Sandburg

"My father would approve..." -- Adrian Conan Doyle

"An honest, authoritative work: a labor, most obviously, of love. . . [but] leaves much to be desired to the Holmes fanatic. . . ." --Ellery Queen (Ray Betzner reviews EQ's review

here

.)
Whether examining the details in the life of Sherlock Holmes or Dr. Watson, or revealing details that enable one to compare Holmes to Conan Doyle, cases that Doyle himself actually investigated (such as those of Oscar Slater and George Edalji), or examining writers who have written parodies and burlesques about the Holmes-Watson relationship (such as Bret Harte, John Kendrick Bangs, Mark Twain, and a long list of others), or discussing Holmes as portrayed on stage and screen, or sharing secrets about the early dinners of the Baker Street Irregulars, The Private Life of Sherlock Holmes is a delight to read. We are privy to learn other secrets, as well, such as Starrett's statement that "The original of Moriarty was Adam Worth, who stole the famous Gainsborough in 1876 and hid it for a quarter of a century; this revealed by Sir Arthur in conversation with Dr. Gray Chandler Briggs, whose discovery of the Baker Street digs already has been noted."
Occasionally, Vincent Starrett tackles a literary problem in the canon itself, such as why Mrs. Hudson is the landlady throughout the stories and is associated with Holmes even in his retirement -- except for one story in which Mrs. Turner appears as the landlady. Mr. Starrett's solution is this: "Once in the early days Holmes called her Turner -- Mrs. Turner. So Watson, at any rate, sets forth in A Scandal in Bohemia. 'When Mrs. Turner has brought in the tray I will make it clear to you,' said the detective, as alleged by Watson; meaning that he would make clear what service he demanded of the doctor. The remark has been anything but clear to students of the record. That Holmes actually made it may be doubted; it is too obviously the sort of error Watson would commit in the throes of composition. No doubt, at the moment of writing, a patient named Turner was waiting in his consulting room -- was in some fashion, anyway, on his mind. the story was written by the doctor in 1891, after the supposed death of Holmes in Switzerland, about an adventure dated in 1888; that is, it was written during the early weeks of his mourning for his friend, at a time when he was distraught. It is not for a moment to be supposed that Watson forgot the name of his old landlady, but it is a bit to his discredit, one thinks, that not once during the three years of Holmes's absence did he call upon her." (Vincent Starrett, The Private Life of Sherlock Holmes) (Starrett adds a footnote that the story "...appeared in the Strand Magazine for July 1891.)
Other writers have given varying solutions to this puzzle, as well. In a recent BBC radio dramatization of A Scandal in Bohemia with Clive Merrison and Michael Williams as Holmes and Watson, Mrs. Turner appears in the story with Mrs. Hudson. In their version, Mrs. Hudson was recovering from an illness and Mrs. Turner was filling in. But Starrett's discussion was much earlier and undoubtedly was a result of his own observations as well as discussion with other Sherlockians, who often become animated when discussing the same detailed trivialities which would have non-Sherlockians looking for the exits. (I can say this as a Sherlockian who has immersed himself in heated discussion and debate with fellows of the same breed.)
In the quote above, Starrett uses the phrase that Watson would commit an error "in the throes of composition." This is precisely the phrase that Conan Doyle uses to describe a character he wrote about in The Mystery of Uncle Jeremy's Household -- a non-Sherlock Holmes story published in 1887 (the same year A Study in Scarlet found publication). This makes it appear quite likely that Starrett was reading a lot of Doyle at the time, including his non-Sherlockian writings, and may well have been subtly influenced. Such phrases are eminently quotable and are likely to remain in the consciousness of a devoted Sherlockian, only to slip out and find its way into one's own conversation or writing.
When discussing Holmes's exploits on the screen, Starrett writes (in the paperback version, that is!), "On the screen the Holmes saga has been prodigiously exploited. Most famous perhaps of motion picture Sherlocks, until the advent of Basil Rathbone, was John Barrymore, who appeared, however, in only one picture. Clive Brook was also good in one picture, and the only complaint registered against Raymond Massey was that he failed to look Sherlockian. In England there has been Eille Norwood and Arthur Wontner, who looked the part to perfection and turned in sparkling performances; but in America, until the coming of Mr. Rathbone, there had been only one face, Gillette's, to stamp the coinage as authentic. It was the face that Conan Doyle applauded, the face which for the most part illustrators drew, the face with which a world of admiring Watsons was familiar.
"Basil Rathbone changed all that. His, one supposes, is almost the most familiar male profile of our day. Inevitably he is associated with the role he played so often that he may be said to have made a career of it. He has given us a believable, an unforgettable Holmes, a creation as authentic as that of Gillette, which paradoxically it does not resemble. If, as I like to think, Gillette was born to play the part of Sherlock Holmes, so also was Basil Rathbone. One played him for the nineteenth century, the other for the twentieth."
But this is in the paperback edition. The blurb on my copy of this edition says, "Note: This work has long been out of print. In fact, those few copies found in the last decade have often brought prices usually attached to rare books and curiosa. The original edition was first published by Macmillan in 1933. Mr. Starrett revised and enlarged the work for a University of Chicago edition in 1960. This is the first paperback edition. Throughout the world this book is still recognized as the definitive study of Sherlock Holmes."
Some time after I purchased this edition, and read it through a number of times, I discovered a book about the Sherlock Holmes films. In it, the author quoted from this passage. But something stirred in my memory when I saw the name of Arthur Wontner where I expected to see that of Basil Rathbone.
I hurriedly retrieved my copy of The Private Life of Sherlock Holmes from the shelf, only to have my memory validated. Sure enough, the paperback edition which I had in my collection stated the name of Basil Rathbone very clearly!
It was only some years later that I came across a copy of the original hardcover edition for sale, and of course acquired it for my collection, that I confirmed the author of the book on Holmes' films had correctly quoted Starrett. So the paperback edition had indeed been "revised and enlarged!" Starrett also added a much-sought-after pastiche called "The Adventure of the Unique Hamlet," which had been privately printed and not included in the original edition of Private Life. Also added were some illustrations which had not appeared in the previous edition.
Other territory which Starrett traverses includes a discussion of "...the Sherlock Holmes movement in America and the fantastic career of the Baker Street Irregulars." Christopher Morley, a driving force behind the Baker Street Irregulars, worked out early ideas for meeting on a somewhat regular (ahem!) basis. Starrett writes, "To return to our irregular history, the original plan of the Irregulars called for an annual dinner on the anniversary of Sherlock's birth, which Morley (with the aid of the stars) had worked out as falling on January 6; but in fact this date is seldom observed. The Baker Street Irregulars, as Morley himself noted, are 'too wise to hold stated meetings, which would belie their name and take the fun out of their indoctrinated irregularity.'"
Starrett provides a detailed description of the dinner and all the luminaries who were in attendance, and his account is fascinating. He also includes the constitution and buy-laws and the original menu. Some scion societies are listed (including The Speckled Band of Boston).
Whether discussing stories which are canonical or uncanonical, or in Starrett's words, "un-Conanical," The Private Life of Sherlock Holmes is an indispensable volume that should be represented in every Sherlockian's library.
Billy Wilder made a film with the same title -- The Private Life of Sherlock Holmes -- not to be confused with Starrett's book. Wilder took some "unwritten stories" of Sherlock Holmes that Dr. Watson had referred to and developed them into an integrated series of anecdotes. The film appeared much later. Wilder may well have been inspired by the title, though, and it is at once evident when one watches his film that he was somewhat of a Sherlock Holmes devotee himself. Reviewer Tom Keogh calls it "one of the finest films of the decade."

---

Click Image to
Order from Amazon
(As an Amazon Associate
I earn from
qualifying purchases.)


Click the image below to
Read the Reviews:


---
One scene in particular, however, drew sharp criticism from at least some of the Baker Street Irregulars. Watson, always the ladies' man, was backstage with some actresses. He was just making headway building rapport with them when Holmes took his hand in a manner that implied their relationship was, perhaps, more than that of just friends. The progress Watson was making with the women dissipated as they drew back, apparently shocked and repulsed -- yes, the phrase "Gay nineties" meant something different in the 1890s than it came to mean in the 1990s. And when the Billy Wilder film came out, the topic was still considered shocking, and the very idea offended some -- even though it was clear that Holmes was only using it as a clever diversion to make a quick escape.
Well, not to dwell on that because it's such a minor scene in the whole film that one wonders why the film was panned by any Sherlockian. It is a fun film, the cast is terrific (including Robert Stephens as Holmes, Christopher Lee as Holmes's brother Mycroft, Colin Blakely as Dr. Watson, and Genevieve Page), and it touches on numerous and seemingly unconnected mysteries (including spies, missing midgets, the Loch Ness monster, Queen Victoria, Trappist monks, ballerinas, the Victorian era, cocaine use, cemeteries, castles, canaries (several hundred in fact), submarines, trains, sulphuric acid and more -- (I mean, could one find a more disparate set of themes in one film!) and it brings them all together and shows how they relate.
Buy The Private Life of Sherlock Holmes
from Amazon
by Vincent Starrett

Click the image below to
Read the Reviews:


---
Amazon and the Amazon logo are trademarks of Amazon.com, Inc. or its affiliates.

---
(This is a link through which I make a small commission if you buy. See here for more details.)