Cafe Sherlock
Odessa, Ukraine
by Drew R. Thomas
August/September 2007
International Incident Number 221B
So I'm standing in Odessa, Ukraine, next to the statue of the Duke du Richilieu, overlooking the famous Potemkin Steps and gazing out over the Black Sea. It is a beautiful evening, and I decide to get a cigar and, rather than walk straight back to the hotel, slowly meander up and down the side streets.
Only a couple of blocks away from the Black Sea, I discover -- Cafe Sherlock! The sign is very large, has the appearance of being carved from wood, and the letter O is in the shape of a magnifying glass with the profile of the Master Detective, Sherlock Holmes within it.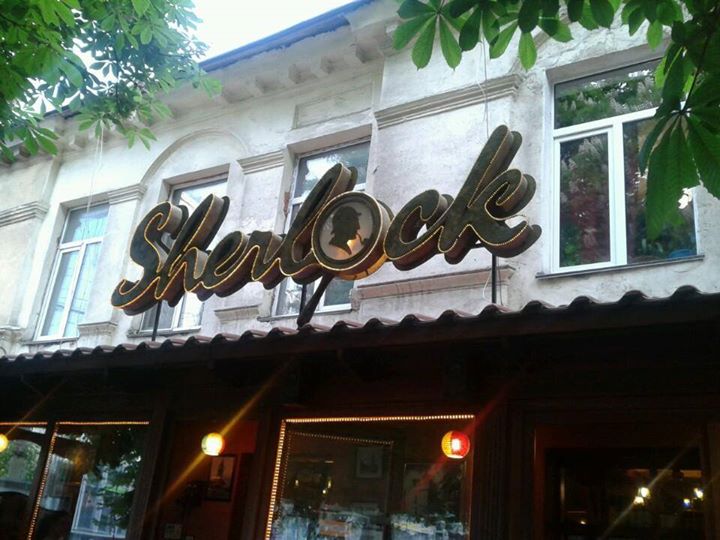 Click the image above to visit Café Sherlock's FaceBook page.

(Photo copyright Café Sherlock, Odessa, Ukraine.
Used with their kind permission.)

Naturally, as a true Sherlockian, I wait outside for the next forty-five minutes while I smoke the cigar to its stub. Then I enter to find a very nice cafe with pictures and artifacts reminiscent of Sherlock Holmes. Although no one present speaks English, a waitress presents me with a menu in English. I spend a delightful two hours copying selections from it into my notebook. And I order the Jamabalaya with Seafood, which was excellent.
When I return to the hotel, I of course research Odessa in the canon (Note: the canon represents the 56 short stories and 4 novels about Sherlock Holmes by Sir Arthur Conan Doyle). I am vaguely aware that reference has been made of Sherlock Holmes in relation to Odessa but until now there was no occasion for that fact to become prominent in my mind. Now, however, since I have been to the wonderful city of Odessa and have met its remarkable people, I see Odessa everywhere!
It turns out, there are at least two references to Odessa, Ukraine, in the Sherlock Holmes canon, and they appear surprisingly early.
In A Study in Scarlet, while explaining the machinations of the case to Dr. John H. Watson, Holmes said,"The forcible administration of poison is by no means a new thing in criminal annals. The cases of Dolsky in Odessa, and of Leturier in Montpellier, will occur at once to any toxicologist." (Emphasis is mine.) This was the first time Watson was to see Holmes in action, and the first time he observed the great detective bring a case to its successful conclusion, so Holmes's explanation was extremely pertinent. And it shows that Holmes was aware of geographical locations including Odessa (in spite of Watson's list of "Sherlock Holmes: His Limits").
Watson, of course, was to work with Holmes again. In The Sign of Four he was to meet Miss Mary Morstan -- the woman who would become his first wife. Shortly after his marriage, Watson wrote,"I had seen little of Holmes lately. My marriage had drifted us away from each other. My own complete happiness, and the home-centered interests which rise up around the man who first finds himself master of his own establishment, were sufficient to absorb all my attention, while Holmes, who loathed every form of society with his whole Bohemian soul, remained in our Lodgings in Baker Street, buried among his old books and alternating from week to week between cocaine and ambition, the drowsiness of the drug, and the fierce energy of his own keen nature. He was still, as ever, deeply attracted by the study of crime, and occupied his immense faculties and extraordinary powers of observation in following out those clues, and clearing up those mysteries which had been abandoned as hopeless by the official police. From time to time, I heard some vague account of his doings: of his summons to Odessa in the case of the Trepoff murder, of his clearing up of the singular tragedy of the Atkinson brothers at Trincomalee, and finally of the mission which he had accomplished so delicately and successfully for the reigning family of Holland..." (Dr. John H. Watson, in "A Scandal in Bohemia." Emphasis mine).
So it shouldn't have come as a surprise to me to learn that a Sherlock Holmes restaurant exists in Odessa, Ukraine.
I have since spread the word. I was in Ukraine on business at the time, and an engineer from my firm who went to Odessa after I returned, sought it out. It seems the restaurant employees remembered me and they gave him a Cafe Sherlock cigarette lighter to give to me!
The people of Odessa have been extremely kind to me. In one case, a waitress went table to table, searching for someone who could speak English and translate my order to her. In another case, when I asked if they could call a taxi for me, the proprietor himself drove me back to my hotel (which was a considerable distance away!).
If you ever find yourself in Odessa, you owe it to yourself to make a trip to this excellent cafe-bar.
So let me give a tip of the deerstalker to my friends of the Cafe Sherlock in Odessa, Ukraine! Thank you, my friends, for the warm and welcoming reception you gave me.
I copied the following selections (and a quote or two) from the English menu into my notebook. All spellings and descriptions are faithful to the menu.
Cafe Sherlock
(Selections from the English Menu)
Salmon in deductive method (mushrooms, vegetables, sour cream)

Barrymore's oat flakes

English antiquity (shellfish, shrimps, mushrooms, potatoes, lemon, pot-herbs)

Don't teach your grandmother to suck eggs (fried eggs)

Mrs. Watson's Salad (shrimps, egg, ham, dried apricots, tomatoes, black olives)

Octopuses from Madam Tusso

Mrs. Hudson's chicken with hot seasoning, fried vegetables, bacon (fileted chicken)

Professor Moriarti's sauce (tomatoes, garlic, Chilly, Tobasco, ketchup)

Truffles

Sherlock's coffee

Tea from Iren Adler
Menu continues after the picture below . . .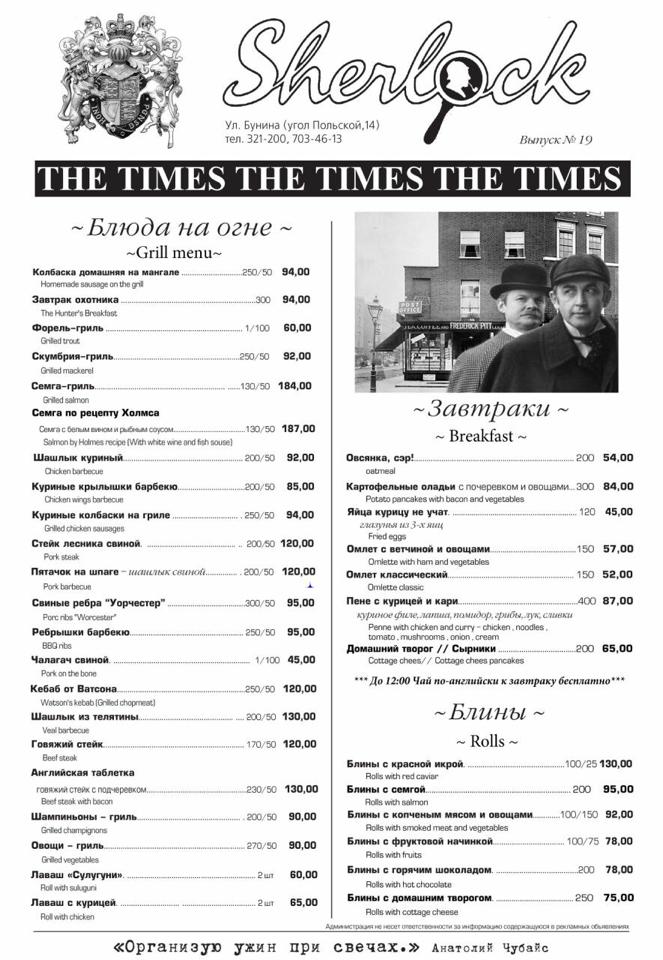 Café Sherlock Menu page 1.
Copyright (C) Café Sherlock, Odessa, Ukraine. Used by permission.

Alcohol Free Cocktails
Speckled Band (pine-apple juice, ice-cream, banana, pine-apple)

Big Ben (orange, pine-apple and grapefruit juice, syrup)
Alcohol Cocktails
Stubborn Englishman (vodka, cuantreau, syrup, lemon fresh)

Death in the Swamp (sambuca, fernet branka, absinthe)

Red-Headed League (rum, cuantreau, lemon, orange, and pine-apple juice, syrup)

Naval Treaty (pizang ambon, cuantreau, malibu, pine-apple juice, cream)


"Hookah is a special way of life expressed in an English saying 'Make haste slowly'"
Gloria trout

English-style soup (pike perch, carrot, champignons, potatoes)

Salmon -- Holmes' recipe (salmon with white wine and fish sauce)

Watson's kebab

Baker Street potatoes (onion, bacon)

Inspector Lestrade's tongue with mayonnaise

Permanent Patient (mackerel, lightly salted herring, boiled potatoes, onion)

Salad "Piccadili" (chicken filet, cocot, pickled cucumbers, mayonnaise, mustard)

Jamabalaya with seafood (rice, seafood, vegetables)

English gossips in omelette

Holmes's caprice (chicken meat, walnuts, mayonnaise)

Devonshire chicken (roll stuffed with crab sticks and cheese)

Traditional English filleted beef (fried fillet with shrimps and mushrooms)

Scotland-Yard (spicy filleted pork with vegetables and champignons)



"During the investigation of crime in Odessa, Sherlock Holmes preferred the following dishes of Ukrainian cuisine..."
Under "sauces," the following are listed:
Thames (ketchup, mayonnaise, cognac)

Miladys delight (bailey's, cuantreau, pine-apple juice)



Menu  continues after the picture below. . .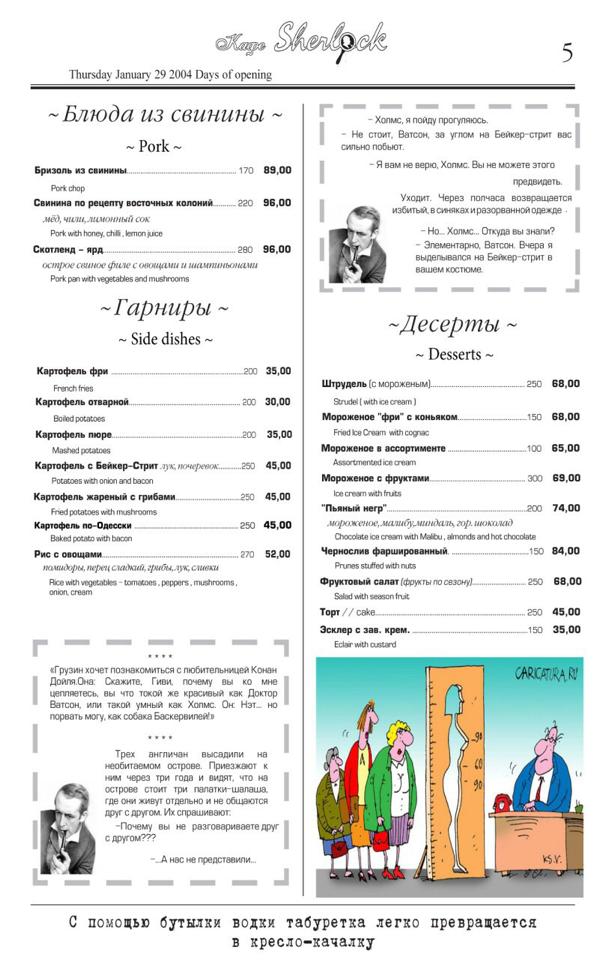 Café Sherlock Menu page 5
Copyright (c) Café Sherlock, Odessa, Ukraine. Used by permission.

Under "Veal Dishes":
English roast beef (filleted veal with vegetables and potatoes)

Beef steaks with fruit sauce

Traditional English filleted beef (fried fillet with shrimps and mushrooms)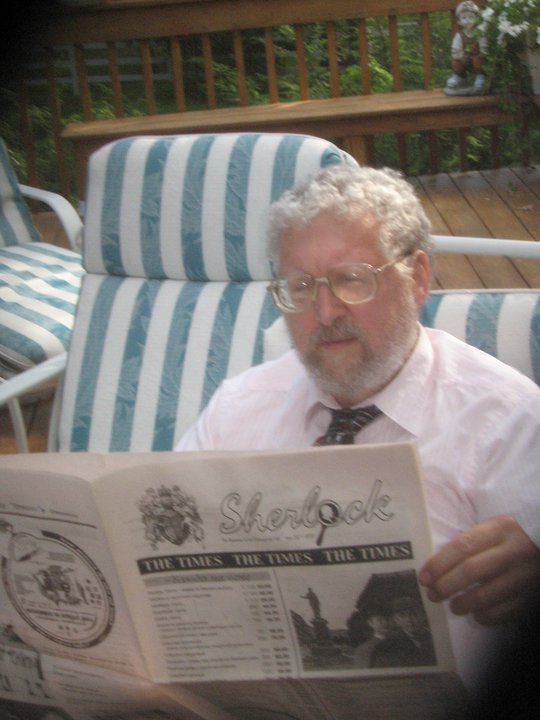 Drew Thomas reading the Café Sherlock menu
(Photo Copyright (C) Joan Thomas)

---
Amazon and the Amazon logo are trademarks of Amazon.com, Inc. or its affiliates.

---
(This is a link through which I make a small commission if you buy. See here for more details.)