"Elemental, My Dear Watson":

Sherlock Holmes on Radio
by Drew R. Thomas
A Quest for the Holy Grail
Alas, alack, it is lost to the ages -- the first dramatization of Sherlock Holmes on radio – "The Adventure of the Speckled Band" – with William Gillette as Holmes (broadcast Monday, October 20, 1930). Gillette also appeared on Monday, November 18, 1935 on the Lux Radio Theater in Edith Meiser's adaptation of his own play. These two appearances by Gillette on radio remain for me a quest for the Holy Grail of Sherlock Holmes radio dramatizations.
But a scrap of recorded dialogue with Gillette exists, and is in circulation among Sherlockians. It seems that Gillette visited a professor who owned a recording device. The professor asked Gillette if he wouldn't mind enacting two scenes – one with Gillette playing Holmes and the professor portraying Watson; a second with Gillette as Holmes and the professor's wife as Alice Faulkner (Holmes's love interest in the play). Fortunately, Gillette acquiesced and this short recording has found its way into the archives of some devout Sherlockians.

But I'm getting ahead of myself.

William Gillette – the First Great Standard for Sherlock Holmes
William Gillette was a prominent actor who wrote several stage plays, introduced a natural style of acting which was new to audiences of his day, mentored a young Helen Hayes…and became the first great standard for Sherlock Holmes in theater (and, later, was emulated by other actors in film and radio drama).

With the permission of Sir Arthur Conan Doyle, Gillette wrote and starred in a play about Sherlock Holmes.

In "A Scandal in Bohemia," Dr. Watson tells us, "It was not that he [Holmes] felt any emotion akin to love…. All emotions, and that one particularly, were abhorrent to his cold, precise but admirably balanced mind. He was…the most perfect reasoning and observing machine that the world has seen, but as a lover he would have placed himself in a false position. He never spoke of the softer passions, save with a gibe and a sneer."

However, Gillette thought a love interest would spark the interest of audiences. He wired Doyle, asking, "May I marry Holmes?"

Doyle, who was tired of writing about Holmes and had Professor Moriarty kill him off in the famous death-struggle that ended with them both falling over the Reichenbach Falls in Switzerland, thought he was rid of Holmes forever. He wired back, "You may marry or murder or do what you like with him."

So Gillette created Alice Faulkner as a love interest for Sherlock Holmes.

Gillette intended to make some money on the play and then move on to other projects. But the play was so successful that he was called upon to reprise the role (between other plays, that is) for the rest of his life, even coming back to star as Holmes after his retirement. Novelist Booth Tarkington said to him after a performance, "I'd rather see you play Sherlock Holmes than be a child again on Christmas morning."

William Gillette's standard for Sherlock Holmes permeated the theater, films, and radio. Subsequent actors emulated him – you can hear it in their voice inflection. If you listen to the scrap of dialogue that Gillette recorded, then listen to Richard Gordon (who followed him on radio), Clive Brook (in film) and Orson Welles (who later played Holmes in Gillette's play on The Mercury Theatre on the Air radio dramatization) you cannot help but be struck by the profound influence that Gillette generated.

Basil Rathbone – the Second Great Standard
For radio, as well as for films, Basil Rathbone set the next great standard. To be sure, several actors had portrayed the Master Detective in film after Gillette. These include Clive Brook, Raymond Massey, Reginald Owen (who also played Watson to Clive Brook's Holmes), and Arthur Wontner. But Basil Rathbone (and Nigel Bruce as Watson) made an impact that was emulated by subsequent actors, particularly in radio.

Rathbone and Bruce made two films for 20th-Century Fox, both released in 1939, then twelve films (affectionately known by Sherlockians as "The Baker Street Dozen") for Universal from 1942 to 1946. They simultaneously appeared on the weekly Sherlock Holmes radio show.


When their contract was fulfilled, Universal offered a new contract, and Nigel Bruce urged Rathbone to continue the role. But Rathbone was tired of playing Holmes and stepped down.


Click Image to
Order from Amazon
(As an Amazon Associate
I earn from
qualifying purchases.)


Click the image below to
Read the Reviews:

Click Image to
Order from Amazon
(As an Amazon Associate
I earn from
qualifying purchases.)


Click the image below to
Read the Reviews:


Nigel Bruce continued on radio as Dr. Watson. Tom Conway replaced Rathbone as Sherlock Holmes. In 1947, John Stanley and Alfred Shirley took over the roles of Holmes and Watson. Both Conway and Stanley emulated Rathbone. Undoubtedly, the producers wanted the program to continue in the Rathbone tradition and were consciously seeking actors who could model his voice. But it goes to show the profound influence and popularity that Rathbone generated as Holmes.

Clive Merrison – A New Standard Is Set
A new standard for Sherlock Holmes was established Jeremy Brett and David Burke were cast in the roles of Holmes and Watson on television in the 1980s. (Eventually, Burke left the series and was replaced by Edward Hardwicke, who maintained the high standards set by his predecessor.)

What Jeremy Brett, David Burke, and Edward Hardwicke were for television, Clive Merrison and Michael Williams became for BBC radio. The same general atmosphere and high standards were achieved. If you are able to acquire these dramas for your collection, and if you have a good sound system in your "home theater," you will undoubtedly appreciate the outstanding audio quality of this series. If you close your eyes while listening you may well be convinced that the entire cast and set is in your living room! (It is most unfortunate that Michael Williams, husband of Dame Judi Dench, passed away after the final episode was completed.)

Click Image to
Order from Amazon
(As an Amazon Associate
I earn from
qualifying purchases.)


Click the image below to
Read the Reviews:


Clive Merrison's Holmes is every bit as good as that of Jeremy Brett! And for the first time, the complete Canon has been dramatized using the same actors in the roles of Holmes and Watson. Oh, what joy it is to listen to every single story dramatized!


And if you-re a die-hard, like me, you can have great fun playing these in the order they were published, and then experimenting with the chronological order that more than one Sherlockian scholar has attempted to construct of Holmes's timeline.

The productions include subtle touches that delight many Sherlockians -- they often attempt to answer questions or problems in the Canon. For example, "A Scandal in Bohemia" is the one story that refers to Holmes's landlady as Mrs. Turner. Throughout the rest of the Canon, Mrs. Hudson is the landlady. In the Clive Merrison version for radio, Mrs. Turner substituted for Mrs. Hudson because Mrs. Hudson was ill. Mrs. Hudson appears later in the show because she is starting to feel better and is ready to resume her normal duties.

Another nice touch includes the use of William Gillette's play in "The Lion's Mane." In the Canon, it is one of two stories written by Holmes's own hand, and in which Watson doesn't appear. In the BBC version, Watson comes to visit Holmes and shows him his new manuscript – which the writers based on Gillette's play. Holmes has written his own account of his new case, and Watson reads it.

 Occasionally, though, one wonders why certain decisions were made in the production. In "The Reigate Puzzle" (also known as "The Reigate Squires"), a dramatic scene from the Doyle story is discarded. In Doyle's story, Dr. Watson writes the following account of an investigation that he and Holmes are involved in. A police official is speaking, Watson informs us, when:

His words were cut short by a sudden scream of "Help! Help! Murder!" With a thrill I recognized the voice as that of my friend. I rushed madly from the room on to the landing. The cries, which had sunk down into a hoarse, inarticulate shouting, came from the room which we had first visited. I dashed in, and on into the dressing-room beyond. The two Cunninghams were bending over the prostrate figure of Sherlock Holmes, the younger clutching his throat with both hands, while the elder seemed to be twisting one of his wrists. In an instant the three of us had torn them away from him, and Holmes staggered to his feet, very pale and evidently greatly exhausted.
(Excerpt from "The Reigate Squires" by Sir Arthur Conan Doyle.)
This dramatic episode was discarded for the Clive Merrison version. Why on earth would the producers fail to take advantage of it?

This BBC series is very recent, but already the impact of this new standard is evident in several pastiches with Merrison (and with Andrew Sachs as Watson).

Other Voices of Sherlock Holmes
All of this is not to say that these are the only portrayals of Sherlock Holmes on the radio. A number of superlative teams have kept the memory of the Master Detective green. Among these are:

John Gielgud and Ralph Richardson
Click Image to
Order from Amazon
(As an Amazon Associate
I earn from
qualifying purchases.)


Click the image below to
Read the Reviews:


Gielgud and Richardson made an outstanding series of half-hour dramatizations in the 1950s. These were all adaptations of Doyle's original stories, with no pastiches included. The first story they did combined two Doyle stories – "The Adventure of Charles Augustus Milverton" and the scene from A Study in Scarlet where Watson is first introduced to Holmes.

Titled "The Blackmailer," this episode included a clever reference to Doyle's original name for Holmes – Sherrinford. (Several Sherlockian publications have included a facsimile of Doyle's original manuscript – the name "Sherrinford" is clearly written and crossed out, replaced by "Sherlock.")

In "The Blackmailer," Watson is looking for a fellow lodger to share rooms and expenses. He runs into Stamford, an old friend from school. The exchange of dialogue runs:

Stamford: "You're the second man today who said that to me."
Watson: "And who was the first?"
Stamford: "Oh, some fellow working up in the chemical laboratory – a fellow named Holmes."
Watson: "I'm the very man for him. What's his other name?"
Stamford: "Uh, Sherrinford is it? No, no, no, no – Sherlock! Knew it was something queer. Sherlock Holmes."
Carleton Hobbes and Norman Shelley
Hobbes and Shelley also did a number of adaptations of the original stories, and these were superb as well. They adapted all four novels and many short stories. It is interesting to compare their productions with the Merrison-Williams versions.

For example, Doyle's A Study in Scarlet and The Valley of Fear could each be seen as two novelettes – part one is Holmes's involvement in the case and part two is a backstory explaining events that preceded and led up to Holmes's investigation.

The Hobbes-Shelley versions followed the structure of the Doyle stories. The Merrison-Williams dramas did the same in A Study in Scarlet. But in the Merrison-Williams version of The Valley of Fear scenes from the backstory were interwoven with scenes of Holmes's investigation.

Robert Hardy and Nigel Stock
Robert Hardy and Nigel Stock played in about eight radio versions produced for records. These were very well done, and one wishes that their collaboration had continued.

Nigel Stock played Watson to several other actors. A favorite appearance (or, rather, non-appearance!) of mine was the way he was used in the film Young Sherlock Holmes. Stock was not seen in the movie – his voice was heard (in voice over) as the mature Watson who was reminiscing.

Nicol Williamson, Robert Powell, and Roy Marsden
Nicol Williamson, known for his role as Holmes in The Seven Percent Solution, also performed as Holmes on radio.

Robert Powell did a version of A Study in Scarlet for BBC radio.

Roy Marsden and John Moffatt portrayed Holmes and Watson on a number of radio dramatizations produced for airlines and designed for in-flight listening by passengers.

And of course there are numerous radio versions, which I haven't mentioned due to space limitations. Holmes, of course, is popular world wide, and Ronald Burt De Waal has catalogued radio productions from Denmark, Norway, and Sweden as well as from numerous English-speaking versions.

"Elemental, My Dear Watson"
You may be familiar with the infamous line that is oft repeated by Sherlockian actors in their portrayal of the Master Detective: "Elementary, my dear Watson."

Hard-core Sherlockians are quick to point out that Holmes never said this in the Canon. He did say "elementary" on more than one occasion, and he did refer to his colleague as "My dear Watson." But he never combined these into the catch phrase that has become so familiar to film and/or radio buffs.

Clive Brook said it. Basil Rathbone said it. But Sherlock Holmes himself never said it. However, in a radio adaptation of "The Final Problem," Richard Gordon said it in a slightly different way: "Elemental, my dear Watson."

To Admirers of Sherlockian Radio Drama, She Is Always The Woman
In "A Scandal in Bohemia," Watson tells us about Irene Adler: "To Sherlock Holmes she is always the woman…. [W]hen he speaks of Irene Adler, or when he refers to her photograph, it is always under the honourable title of the woman."

Members of the Sherlockian Baker Street Irregulars (BSI) have begun a tradition of recognizing various women worthy of the title as "The Woman." For fans of radio, it must always refer to Edith Meiser.

Edith Meiser wrote the first Sherlock Holmes script for radio when she adapted Gillette's play for the airwaves. She also directed Gillette, and wrote many more radio scripts, which were produced for more than a decade. Meiser also wrote for Richard Gordon, Basil Rathbone, and others. (Even after she stepped down, and Anthony Boucher and Denis Green took over writing for the show, many of her scripts were revived when Tom Conway, and later John Stanley, replaced Basil Rathbone.)

I was fortunate to be invited to Edith Meiser's apartment one afternoon. She told me about her experience directing Gillette on the radio show. Gillette was eighty years old, and Edith was concerned that he had a long drive home – on his motorcycle! (He lived in Deep River, Connecticut, near the Massachusetts border. His home, known as Gillette's Castle, is now a historic site, which the public may visit.) After the show, she suggested he stay the night. But Gillette declined the offer (good-naturedly, as Edith Meiser told me). Instead, he rode home that night on his motorcycle.

Bibliography:
Sir Arthur Conan Doyle. The Complete Sherlock Holmes. (Garden City, New York: Doubleday and Company, Inc.).

Ronald Burt De Waal. The World Bibliography of Sherlock Holmes and Dr. Watson. (New York: Bramhall House, 1974.)

Click Image to
Order from Amazon
(As an Amazon Associate
I earn from
qualifying purchases.)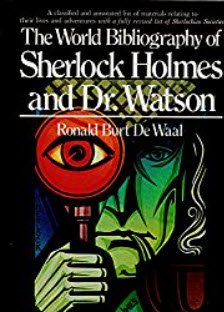 Click the image below to
Read the Reviews:


Drew R. Thomas has been a devout Sherlockian for more than forty years. He is founder of The Society for the Immense Knowledge of Sensational Literature (SIKSL), a scion society of the Baker Street Irregulars. This article was originally published in the magazine No Agenda, 2003.

Sherlock Holmes on Radio:
The Complete Conan Doyle Sherlock Holmes (BBC Dramatization) (Clive Merrison stars with Michael Williams in this indispensable BBC production. Merrison is the Jeremy Brett of radio -- what Brett did on the famous television series, Merrison did on radio.  This is the first known production where the entire Holmes canon is dramatized using the same actors in the roles of Holmes and Watson! I highly recommend this series, as I absolutely love it! Highly recommended.
Basil Rathbone and Nigel Bruce. While starring in the Universal Sherlock Holmes film series, Rathbone and Bruce also appeared in a weekly radio dramatization. A number of these were pastiches to enable the series to go beyond the 56 short stories and 4 novels. Early scripts were written by Edith Meiser; later, Denis Green and Anthony Boucher collaborated on the scripts.
Tom Conway and Nigel Bruce. When Rathbone stepped down from the role of Sherlock Holmes, Tom Conway replaced him. Nigel Bruce received top billing as the series continued. Edith Meiser's scripts were resurrected.

John Stanley (Smithsonian Collection)

. (After Basil Rathbone and Tom Conway starred as Sherlock Holmes, John Stanley picked up the mantel. Alfred Shirley plays Dr. Watson in thee first season. Later, other actors portray Watson in this series.)
The Immortal Sherlock Holmes. Orson Welles stars as Sherlock Holmes in the Mercury Theatre on the Air version of William Gillette's play.
John Gielgud and Ralph Richardson. In the 1950s, Gielgud and Richardson starred in a successful half-hour set of dramas that are faithful to the canon.
Carleton Hobbes and Norman Shelley. In the 1960s, Hobbes and Shelley produced a large number of dramas that are faithful to the canon. The  format was a half-hour for each episode, but all four novels were dramatized in three half-hour installments each.

Sherlock Holmes | Home

---
Amazon and the Amazon logo are trademarks of Amazon.com, Inc. or its affiliates.

---
(This is a link through which I make a small commission if you buy. See here for more details.)